Meet Ilhan
Fighting for Minnesota Progressive Values
---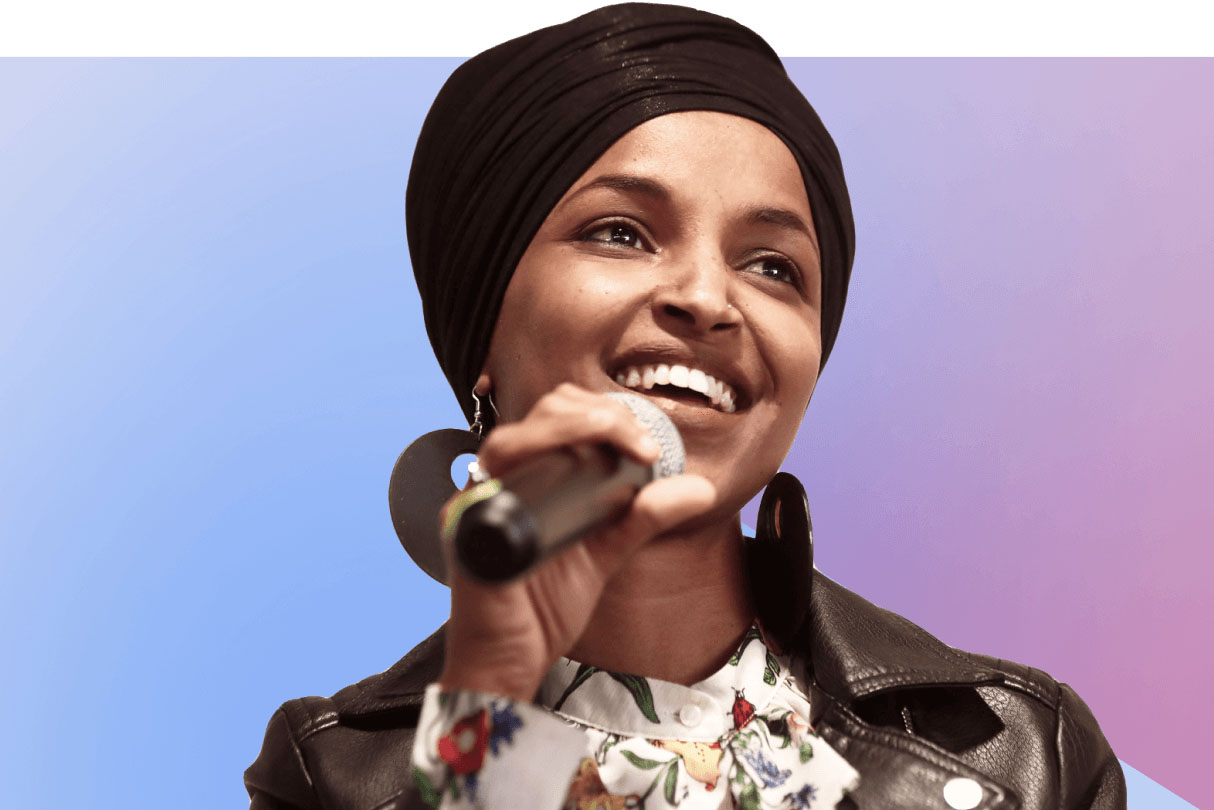 Ilhan's love for public service began at the age of 14 when she was as an interpreter for her grandfather at local DFL caucuses. Watching neighbors come together to advocate for change at the grassroots level made Ilhan fall in love with the democratic process.
Her representation is built on cogovernance with the constituents she represents. That includes monthly town halls, routine constituent service resource fairs and a brand new district office. She has brought over $40 million to the district in the form of community projects—including a brand new affordable housing facility for veterans in Robbinsdale, funding for entrepreneurs in North Minneapolis, low-income housing for people with disabilities in Golden Valley and St. Anthony and much more. As a leader of the House Budget Committee and Progressive Caucus, she has continued to fight for the progressive values Minnesotans sent her to advocate for—whether it's codifying Roe v. Wade into law, pushing for historic climate legislation, addressing the opioid crisis or implementing an assault weapons ban. She negotiated a landmark public safety bill to secure major investments in local departments and real accountability, the biggest effort to fight climate change in the history of the country and historic funding to feed over 30 million kids during the pandemic.
As a student at Edison High School in Minneapolis, she became an organizer and has been a coalition builder ever since. She worked as a community educator at the University of Minnesota and has been a committed organizer in the DFL party for many years. Before running for office, Ilhan was a Humphrey Policy Fellow and served as a senior Policy Aide for Minneapolis City Council Member Andrew Johnson.
In 2016, Ilhan became the first Somali-American, Muslim legislator in the United States. With the help of her committed campaign team, they increased voter turnout by 37%. She was elected to the Minnesota House of Representatives in District 60B, where she's lived for the past 20 years and where she and her husband Ahmed are raising their three children.
In 2018, she became the first African refugee to become a Member of Congress, the first woman of color to represent Minnesota, and one of the first two Muslim-American women elected to Congress. Despite significant dark money spending to defeat her by out-of-state Republicans, Rep. Omar has won eight elections and served her constituents for three consecutive terms in Congress.