Progress
Progress
For The Fifth
---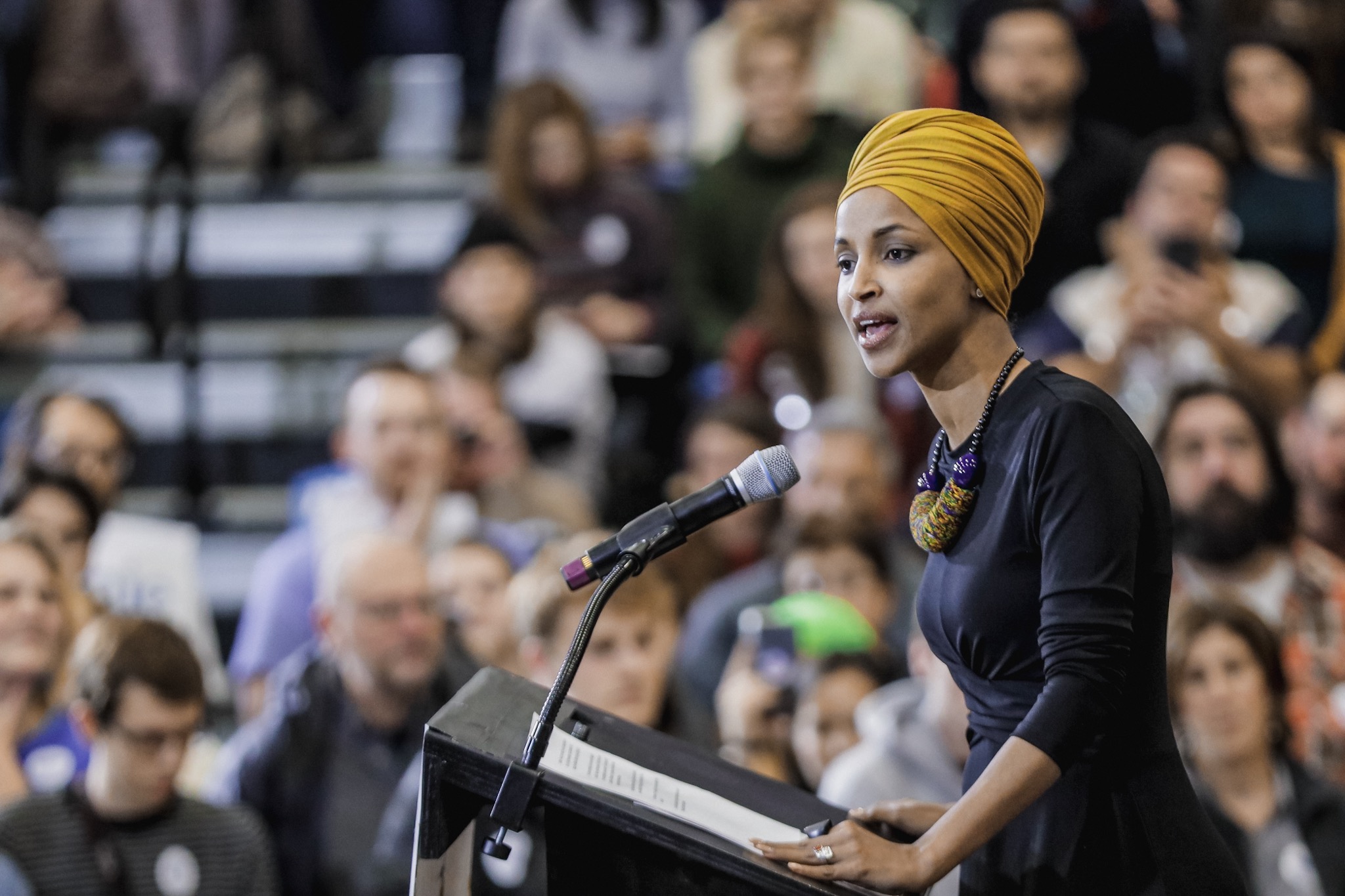 Achievements
Since becoming your representative in Congress, Ilhan Omar has fought, introduced, and pushed for policies that will benefit all members of our community, not just the wealthy few.
---
48
bills and amendments introduced in the U.S House
---
17
bills and amendments passed in the U.S. House
---
67K
constituent letters answered
---
32
roundtables and town halls
---
1,300
meetings with constituents
---
400
constituent cases worked on
---
$478K
returned to constituents
Leading the Delegation
Ilhan leads the entire Minnesota delegation in amendments passed in the House, and in total number of bills and amendments introduced. ​ She has secured major victories for Minnesotans — including protections for our Liberian-American community from deportation, bringing home over $450,000 to her constituents in the form of casework and securing critical funding during the coronavirus pandemic.
Ilhan gets resources directly into the hands of Minnesotans
Returns $450,000 to constituents
Introduces 35 bills
MEALS Act is signed into law
PAUL Act, a bill she authors to crack down on foreign lobbyists, passes the House
Ilhan gets resources directly into the hands of Minnesotans
Returns $450,000 to constituents
Introduces 35 bills
MEALS Act is signed into law
PAUL Act, a bill she authors to crack down on foreign lobbyists, passes the House
Leads prescription drug reform effort in the House, and helps pass a bill limiting the U.S. role in the War in Yemen.
Leads conversations about reorienting America's foreign policy around peace and diplomacy.
---
August 2019
20 bills and amendments introduced in the U.S. House of Representatives
12 bills and amendments passed in the U.S. House of Representatives
371 bills cosponsored
21,152 constituent letters answered
16 roundtables and town halls
879 meetings with constituents
189 constituent cases worked on
$400,414 returned to constituents
December 2019
28 bills and amendments introduced in the U.S. House of Representatives
16 bills and amendments passed in the U.S. House of Representatives
433 bills cosponsored
47,484 constituent letters answered
21 roundtables and town halls
Over 1,000 meetings with constituents
Over 200 constituent cases worked on
$411,635 returned to constituents
June 2020
48 bills and amendments introduced in the U.S. House of Representatives
19 bills and amendments passed in the U.S. House of Representatives
548 bills cosponsored
67,732 constituent letters answered
32 roundtables and town halls
Over 1,300 meetings with constituents
Over 400 constituent cases worked on
$478,000 returned to constituents
---
Substantial Progress for the Fifth
Reform Policing Nationwide
After George Floyd's murder – Ilhan Omar and House Democrats moved swiftly to pass the George Floyd Justice in Policing Act in order to establish new standards of policing, ban the use of chokeholds, stop no-knock warrants, prohibit racial profiling and end qualified immunity for police, among many other reforms.
Ilhan also introduced four new bills to reform law enforcement at the federal level. First, the Protect our Protesters Act, which criminalizes police violence against demonstrators exercising their constitutional rights. Second, the National Police Misuse of Force Investigation Board Act which will establish a federal agency responsible for investigating all nationwide deaths occurring in police custody, officer-involved shootings and uses of force that result in severe bodily injury. Third, the Amending the Insurrection Act, which will amend the Insurrection Act, curtailing President Trump's ability to deploy the military domestically without Congressional consent. And fourth, a bill to create a federal relief fund, specifically for communities trying to rebuild after social and civil rights crises, a fund that cities and businesses can apply to for grants to get them back on their feet. Abandoning those who have faced financial consequences only sets the stage for future conflict.
Achieving Housing for All
Congresswoman Omar introduced H.R.5244, the Homes for All Act, groundbreaking legislation which will fulfill the promise of a homes guarantee by investing $1 trillion in the construction of 12 million new public housing and private, permanently affordable rental units – vastly expanding the available affordable housing stock, driving down costs throughout the market and creating a creating a new vision of what public housing looks like in the United States of America. That vision includes building the highest possible environmental standards, strengthening anti-discrimination protections so that no one can be turned away and, making public housing mandatory spending, as it is for other essential programs like Social Security and Medicare.
Student Debt
Ilhan Omar introduced H.R. 3448, the Student Debt Cancelation Act in order to break down the barriers that hold millions of Americans back from economic security and lift the limitations that prevent everyone from accessing higher education in this country. H.R. 344 is straightforward legislation that would forgive all existing U.S. federal and private student loans. She also spearheaded an amendment included in this year's Higher Education Reauthorization (H.R. 4674) that creates the first ever federal commission to study the impact of student loan debt on borrowers and our economy. The commission is charged with making recommendations on how the federal government could move forward to cancel student loan debt.
Green New Deal
Ilhan introduced a key part of the Green New Deal, H.R. 4050 the Zero Waste Act, which aims to end the use of toxic landfills and creates a federal fund that localities can tap into in order to invest in zero waste initiatives and recycling infrastructure. She also introduced H.R. 6289, the Stop Trump's Oil Payoff Act to prohibit the Trump Administration from slashing royalty rates for fossil fuel corporations and giving away billions of dollars to well established and highly profitable polluters during the COVID-19 pandemic. Ilhan Omar also voted to pass H.R.9, the Climate Action Now Act to ensure the U.S. honors our commitments detailed in the Paris Agreement and lays the groundwork for further climate action. That bill also included an amendment authored by Ilhan recognized the impact of climate change on displacement and the global refugee crisis.
Making Healthcare Affordable
In her fight to ensure universal healthcare coverage, Ilhan Omar serves as Vice-Chair of the Congressional Medicare for All Caucus and joined in as an original cosponsor of the Medicare for All Act, H.R. 1384. Ilhan also voted H.R.986, the Protecting Americans with Preexisting Conditions Act to nullify President Trump's rollback of the Affordable Care Act. And Ilhan also voted for H.R. 3, the Elijah E. Cummings Lower Drug Costs Now Act, after working as part of the Congressional Progressive Caucus leadership to increase the number of prescription drugs that Medicare would be able to negotiate on in order to bring down their cost.
Increasing Access to Child Nutrition
Ilhan introduced the H.R. 4684, the Universal School Meals Act to provide free breakfast, lunch, and dinner to every student in America—without demanding they prove they are poor enough to deserve help. She also introduced H.R. 3366, the No Shame at School Act to prohibit schools from taking any action that stigmatizes students who cannot pay their meal fees. And Ilhan's MEALS Act (HR 6187), a bill aimed at protecting students' access to school meal benefits during school closures was passed into law as part of HR 6201, the Families First Coronavirus Response Act.
Creating a Just Immigration System
Rep. Omar helped craft and served as an original cosponsor of HR 2214, the NO BAN Act, a bill to repeal the discriminatory Muslim Ban, and she took part in the historical joint hearing held by the House Foreign Affairs and Judiciary Committees on this important legislation. She also cosponsored and voted for HR 6, the American Dream and Promise Act, a bill that offers a pathway to citizenship for these and other similarly situated immigrants who have spent much of their lives in the United States. Ilhan also authored HR 5734, the Neighbors Not Enemies Act which would fully repeal the Alien Enemies Act of 1798 – a law that allows the U.S. president to apprehend, detain or remove foreign nationals from a specific nation deemed a threat. This is the same law that was employed during World War II to detain and subsequently deport German, Japanese, and Italian immigrants and was used as a justification for the Muslim Ban.
Workers
As a member of the Education and Labor Committee, Rep. Omar has taken decisive action to uphold the rights of workers and minimize the influence of powerful corporations. Ilhan cosponsored and voted in favor of HR 582, the Raise the Wage Act, a bill to increase the minimum wage to $15 per hour by 2025, and HR 7, the Paycheck Fairness Act, a bill to close the gender wage gap. Ilhan also cosponsored and voted for HR 2474, the PRO Act, a bill aimed at holding employers accountable for violating workers' rights, ending the use of forced arbitration and strengthening the sacred right to join in union.
Promoting a Peaceful Foreign Policy Agenda
Ilhan introduced the Pathway to PEACE (Progressive, Equitable, and Constructive Engagement) platform, a package of seven bills aimed at reorienting U.S. foreign policy. The package outlines a bold progressive vision to rethink the country's approach to foreign policy by centering human rights, justice and peace as the pillars of America's engagement in the world, and making military action a last resort. Prioritizing multilateralism and diplomacy over multilateralism The plan takes into account the experiences of people directly affected by conflict and the long-term consequences of U.S. militarism, acknowledges the damage done when we fail to live up to international human rights standards and is sincere about our values regardless of short-term political convenience.
Preventing Gun Violence
Within weeks of being elected, Ilhan cosponsored and voted in favor of two important bills focused on preventing gun violence in America. H.R. 8, the Bipartisan Background Checks and HR 1112, Enhanced Background Checks Act both passed the House in February of 2019. The bills would require a background check for every single gun sale or transfer and repeal the "Charleston Loophole," which currently allows the sale of a firearm to proceed if a background check is not completed within three business days.